Web Notes. . .
This is where we will list suggestions to help you make the MBCA
web site easier to use. Contact web@mechanicalbanks.org
if you have problems, suggestions, requests, etc.
Underlined words are links to the source of the information. Click on them to go directly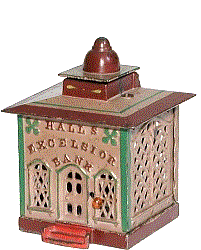 to the topic. Use your Back button or click on the MBCA logo to return to the previous page.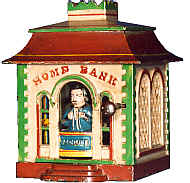 If you print pages, set your printer with margins that are less than ½ of an inch. Larger margins could cause some of the pictures or text to overflow the page. The images on some pages have been optimized for viewing with monitor resolution set for 800 x 600 or higher.
Not all topics are listed on the Scrapbook Contents page. Use the Search page to locate all pages that contain your search words. Material in the public Forum, members Reference , and members Chat area, will not be searched by the main Search page. These sections have independent search capabilities. MBCA members should obtain the User Name and Password required for access to the Reference and Chat sections of this web are published in the BANKER that is mailed to all members three times a year.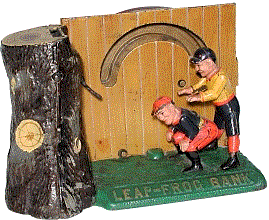 Some text has been converted using Optical-Character-Recognition (OCR), photos and graphics have been scanned and compressed for web viewing. If you go to a page and it has too much text to quickly find your search word/words, go to the top tool bar, click on Edit, select Find (on this page), enter the word to find and your words will be highlighted on the page.

Invest in Precious Metals — Antique Mechanical Banks.

I wish I knew more about the toys I have and once that is done then maybe I could afford more toys to keep my current toys company!