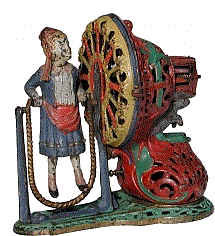 Animated Mechanical Bank
Photos in the MBCA Web
(Pages must finish loading to see the action)
Eagle and Eaglets - this page (below)
Girl Skipping Rope - large
Girl Skipping Rope - small - this page (left)
Hall's Excelsior Bank
Leap Frog Bank
Lion Hunter Bank
Magic Bank
Owl Turns Head Bank

Click here for a page with 7 animated banks.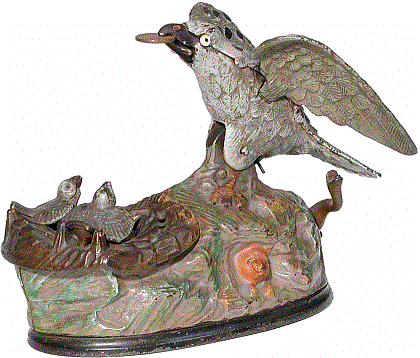 NOTE: Depending on the speed of your internet connection, the large Girl Skipping Rope and seven animated banks pages could take a few minutes to load fully. You won't see the banks move until the page is completely loaded. The images on these pages will overflow your monitor if your resolution is set less than 1024 x 768 pixels.