Added to the MBCA web between Oct. 01, 2015 and Jan. 28, 2016

Mechanical Bank Notes by Sy Schreckinger from ANTIQUE TOY WORLD magazine.
August 1982 through December 2014 (thirty-two years, 386 magazine articles,
780 pages, 271112 words).

Members pages
The Donal Markey Collection, MBCA Booklet, published April 2014, PDF.
2014 April BANKER, PDF
2014 August BANKER, PDF
2014 December BANKER, PDF
---
Added to the MBCA web between Sept. 19, 2014 and Oct. 01, 2015
September

29, 2015





It is with great sadness that we note the

passing

of

Ken Knops on Sept. 26th

at age 91.




Ken

was a significant

contributor to the MBCA. Joining in 1976, he served as President from 1981 through 1983, Director & Treasurer, was Editor of THE BANKER between 1982 and 1985 and hosted our annual Convention in 1988.
We extend our sincerest

sympathy to his wife, family,

and friends.
Edison Institute Herald - Mechanical Toy Banks, Joan Apesech, Nov. 1, 1946,
Wireless Bank, Advertising - John B. Varick Co., No 22 — 1929,
Old Mill Savings Bank, advertising, The Youth's Companion, July 1886,
1989 Uncle Sam Postcard, San Diego Trust & Savings Bank, from Thomas W. Sefton collection.
Links to M.B.C.A. member Jack Allen's mechanical bank videos on YouTube
(TheBankCollector) were added to home page and links page.
---
Added to the MBCA web between June 14, 2014 and September 19, 2014
September 19, 2014





It is with great sadness that we note the

passing

of
Sy Schreckinger.


Sy

was a significant

contributor to our hobby and will
be missed by all. He was the author of monthly in depth mechanical bank articles in Antique

Toy World

magazine from 1982 through 2014, an active member of MBCA since 1971, a

friend,

a

respected dealer

, and cast iron restoration specialist.




We extend our sincerest

sympathy to his wife, family,

and friends.




1926 - Uncle Sam's Registering Savings Banks - Brochure and Postcard
1930's - James C. Jones - Thrift of 'Good Old Days', Article
1976 - Banks, Making A Game of Moneysaving - Encyclopedia pages
1978 - Banking Haze and Daze, Antique Toy World, Oct. 1978
Antique Showcase - Canada's National Antique Magazine, October 1998, the Stan Sax sale of Mechanical Banks.
Advertising from Maeshall Field & Co. Illustrated Catalog of TOY BANKS (1893): Worlds Fair (Columbus), Organ Grinder and Dancing Bear, Presto, and Professor Pug Frog. Advertisement from HOUSE BEAUTIFUL, November 1950, Sonny Boy.

Members pages
2013 April BANKER, PDF
2013 August BANKER, PDF
2013 December BANKER, PDF
---
Added to the MBCA web between Sept. 04, 2013 and June 14, 2014

Weedens Plantation - TRIFETS Monthly Galaxy of Music, 1893 Adv.
Burglar Proof Safe - Suplee Hardware Company, 1906 Adv.
Pay Phone Bank - Riemann, Seabrey Co., 1926 Toy Fair Adv.
Frog on Rock, Rabbit in Cabbage, Owl, Slot in Head/Book - H.H. Tammen Co., 1936 Adv.

1936 - Inventor's Handbook on Patents - excerpt - 728kb pdf.
1973 - Patent Models recall creativity of early America - 1303kb pdf.
1952-1953 John Meyer audio recordings describing acquisition of his Freedman and Baby Elephant banks.
Make a Wooden Mechanical Bank - Savings Bank Filled by Efficient "Cashier"
THE ANTIQUE TRADER, February, 5, 1974, OLD CAST IRON BANKS: Careful Collecting
Collectors' SHOWCASE, Jul/Aug 1982, SPIZE A MULE banks by Bill Norman
Coasting Bank - Auction - Nov. 2013, 2013 Press Release 557k pdf,

Members only search page stopped working. Front Page active components are no longer supported by web host, set old search page to show A-Z index of member only web content (March 03, 2014).
(below was posted after 2013 convention, removed May 19, 2014 after articles in Banker)
WARNING: Be extremely careful when purchasing wood boxes
that are currently available from various sources, some are faked.
See two articles in April BANKER (in the mail the week of April 2, 2014).
---
Added to the MBCA web between Feb. 03, 2013 and Sep. 03, 2013
Pay Phone Bank advertising image from 1926 Riemann, Seabrey Co., jobber catalog, page 70.
Butler Bros, 1910 advertising images (catalog page 32) for Calamity (Football), William Tell, Bad Accident, and Teddy and the Bear.
1948 Meyer shows Vicky's brother, Lawrence, how to operate one of the 200 banks.
Reproduction Banks advertised in TRUE THE MAN'S MAGAZINE — Nov. 1961.
Reproduction Banks advertised by F.A.O. Schrarz — Christmas, 1962.
1980 They Pay Big Money For Banks, P.B. Auction, Miami Herald.

Members pages
Boy on Trapeze *Calibration* by John Feather
1969 Convention Minutes
1970 Convention Minutes
1981 Workshop - Economic Outlook for bank collecting as an investment
1981 Convention Minutes
1991 Convention Minutes
2012 Banker Questionnaire, PDF
2012 April BANKER, PDF
2012 August BANKER, PDF
2012 December BANKER, PDF
---
Added to the MBCA web between June 16, 2012 and January 28, 2013
1968 Old Mechanical Banks - Mark Haber, Manuscript,
1956 One Penny for the Show! - American Home Magazine,
1933 What About the Banks? - The American Legion Monthly, Article - information
about banks in 1933 that you will not see elsewhere on the M.B.C.A. web.
1959 Scans of Calumet Baking Powder Jobber Want Book - photo of 3 Calumet banks.
1976 Sears Catalog - Americana Mechanical Benny Banks, 13 copies of original banks,
and 1 copied from previous reproduction.
1978 - "Mechanical Bank" News Report, Antique Toy World Article.
1978 Banking Ways and Daze - Antique Toy World Article.
1980 - Banks bring big money, P. B. Auction, Antique Toy World Article.
Auction prices were updated and include the Al Winick collection (98 lots sold for $1,491,201).

Members pages
2012 Convention Questionnaire,
---
Added to the MBCA web between March 3, 2012 and June 16, 2012

Corby - Many Events Reflected by Penny Banks - 1940

Habit of Thrift Once Made Fun - 1942

Ina Bellows book Review - 1940

PENNY BANKS - 1977 book review by Heidi Berry

J. & E. Stevens Co. 1851 advertisement

Jerome B. Secor - 1880 advertisement

Edward S. Coe dies in 1926

Miscellaneous J. & E. Stevens articles and agreements

Hall's Excelsior bank advertising flier

Warman's 12th Antiques and their Prices from 1975

Scans of proof prints from printers blocks for

Cat and Mouse

Chief Big Moon

Gem Registering

Hen and Chick

Perfection Registering

Professor Pug Frog

Jolly N.

Punch and Judy

Mosque

Scans from original 1927 advertising pages for

Monkey, Trick Dog

Elephant Pull Tail

Frog on Rock, Owl Slot in Book, Rabbit in Cabbage

Uncle Sam Register Banks

Montgomery Ward Advertising from 1890 for

Santa Claus, Jolly N, Speaking Dog, Uncle Sam, and Trick Dog 6 part base

Members Section Additions Include:

2011 MBCA BANKERS from April (pdf), August (pdf), and December (pdf)

2012 MBCA Convention Handout

J. & E. Stevens Co. - Sales & Payroll, Cromwell CT, etc. (3,189k PDF)

List of MBCA member names from 1970 and 1990 "Directory Of Members" (addresses, phone, Email, etc. are not included), 1961 and 1980 were previously posted.
---

Our MBCA WEB IS QUITE ACTIVE
Visitors viewed a total of 13,445 videos on our

channel since it was created
8 months ago — Penny Lane (2,948), Bless Us All (2,718), Ed Mosler (2,136), and Steckbeck Collection - part 1 (1,943), part 2 (1,885), & part 3 (1,815). Click here to view current count.

3,404 Jigsaw Puzzles were completed between August of 2011 and June of 2012 (10 months).

MBCA web visitor statistics for June 2011 to June 15, 2012 (646,237 pages were downloaded).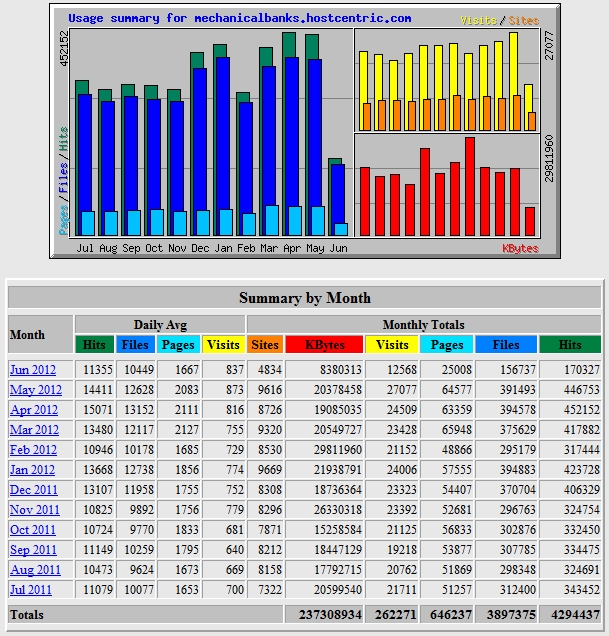 (Click here to see list of additions to MBCA web prior to March 3, 2012.)