1993
Is you is, or is you ain't
my Mechanical Clock Bank?

By Tom Stoddard & Graham Jones
Photos by Graham Jones & Loretta Nedrow

THE LUX CLOCK COMPANY 30-hour coin actuated clocks are well known among mechanical and still bank collectors, yet they have never achieved status as classical mechanical banks. They are certainly banks, they have two coin slots and a hole for "Bills." The early square table variety was offered as a deposit builder by banks and such deposit builder banks are widely accepted as coin banks by collectors. They certainly have mechanical action and require coins for operation. They were patented and produced prior to WWII with the earliest patent date of June 4, 1912.
Status as advertising banks could not be the problem. A variety of classical mechanicals from Calumet nodder to Lucky Wheel Money Box to many vending toys have advertising. It could not be that it is a winding action. A variety of mechanicals from registering to musicals require deposit of a coin then winding. Is it not strictly a toy even though the action of winding and running of a clock is fascinating. But, it is as much a toy as "Time Lock Savings Bank" Davidson 472 or "Key, 'St. Louis'" Davidson 288. Or is it, as we suspect, it is just not charismatic and has never captured the imagination and fancy of collectors. But those are hardly reasons for excluding this plain jane as a mechanical bank.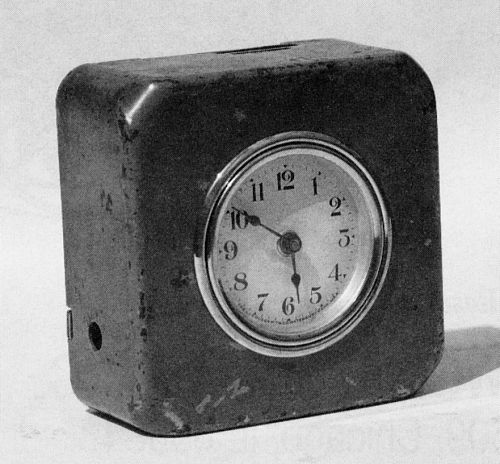 Graham Jones, co-author and clock repair expert and collector, finds the clock and coin action particularly fascinating thus spurring his interest and contribution to this article. It may be that clock enthusiasts will be the reason these banks are finally classified as mechanical banks. Their multiple function as savings depositories, clocks and mechanical action are unique. The earliest 3-7/8" square and 1-3/4" deep version is shown in photo 1 and has "Pat 6-4-12" on the back.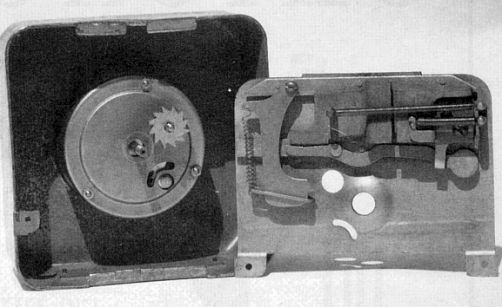 The clock-banks are fully operational clocks with inexpensive balance wheel movements with a 30-hour running time. The case is sheet steel and usually painted a crinkle black although a green one is known. It has two coin slots on top, one stamped "DIMES" the other "QUARTERS & NICKELS" plus a side hole marked "BILLS." The back is covered by two brass pieces, the upper 2-5/8" piece is for the clock and winder mechanism. The upper inside and winding mechanism is exposed in photo 2, this requires deposit of a coin to operate. It is actuated by a finger push lever, embossed "OPERATE SLOWLY" on the back, shown in photo 3. There is also a manual wind key and a fast-slow lever on the upper back of the clock. The 1/2" key lock bottom cover slips out and is the bank trap. The much smaller clock is separately encased inside the larger steel case, most of the inside of the larger case is available for coins.
The front opening is covered with a clock face, blue steel hour and minute hands and nickel plated retaining rings holding a glass cover on. On the lower face in tiny print is "THE LUX CLOCK MFG. CO. WATERBURY CONN., U.S.A." The bottom of the bank has a recessed area 5/8" by 2-1/2" where two rivets hold a paper label and plastic cover. The paper says, "BENEFIT SAVING AND LOAN ASSN., —FIFTH NEAR STARK— PORTLAND, OREGON. (Smaller print) PATENTED 6-4-12 OTHER PATENTS PENDING." on four separate lines.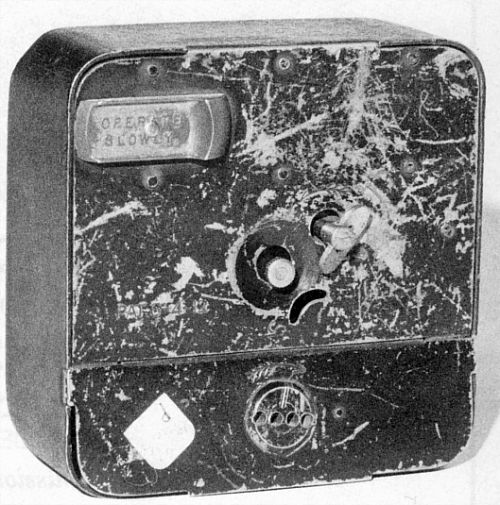 The Lux Clock Manufacturing Co. was located in Waterbury, CT, and is well known among collectors for a wide range of inexpensive shelf and pendulette wall clocks. Their fame is for small, charming, animated pendulette wall clocks with 30-hour movements enclosed in carved or pressed wood cases made between 1920 and 1950. Dozens of designs include birdhouses, dogs, horses and cats and even included shmoos and Woody Woodpecker. The Lux company was founded in 1912 by Paul Lux, a German immigrant, after working 28 years for the Waterbury Clock Co. Despite many hardships Lux survived and thrived, reaching its apex in the 1930s producing 3,000 clocks per day. Years of decline followed and it was purchased and absorbed by Robertshaw-Fulton Controls Co. in June 1961.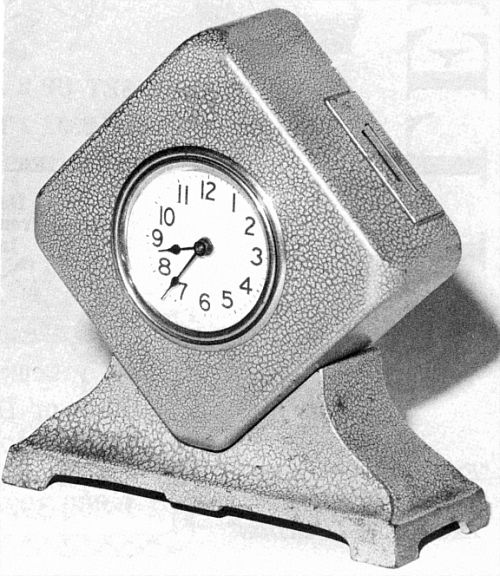 The 1912 patent date indicates the coin bank clock was one of the first products of the Lux company. A 1925 version exists, see photo 4 but the movement and bank mechanism are exactly the same. The biggest change is a pot metal base which puts the case on 45 degree angles and the "LUX" name is gone, the face says, "MADE IN U.S.A." leaving us to speculate that the design and manufacturing dies and jigs may have been sold to another company. The patent date now says, "PAT 12-8-25" or December 8, 1925.
The most mysterious and interesting feature of the coin-clocks is the winding mechanism. The winding mechanism is very complex and difficult to manufacture for such a small clock, photo 3. It is one of the features little appreciated by casual examiners of the outside shell. The three clocks discovered by the authors have the winding ratchet assembled so that twelve coins are required to fully wind the clock or some amount between $.60 and $3.00 needed for winding each day, an absurdly large amount for 1912 amounting up to a week's wages. On the other hand it could be manually wound without a deposit and would likely be wound this way. By easily reversing the winding ratchet it prevents the manual winding except when a coin is inserted and the "OPERATE SLOWLY" lever is held at the "in" position. Thus requiring one coin per day to permit winding and operation of the clock, a far more logical arrangement. It then becomes a forced savings device with the reward of a timekeeper for the day.
On a recent trip to Germany a similar bank produced by the Atlas clock company from the same period was discovered, photo 5. It is well-known to German collectors and has instructions for use in German. With Lux's German background could he have licensed his invention for use by his former countrymen? Is it a mechanical bank?
We have examined and described the Lux Coin-Clock and its operation. In our opinion it is an interesting and valuable piece of early American ingenuity we want to call a classical mechanical bank. Our vote is in, but only time and other collectors can decide, is it is, or is it ain't a mechanical bank?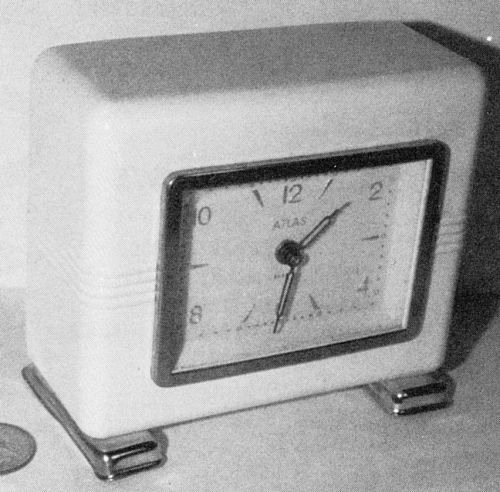 ---
Web note:
Patent # 1,028,232 issued on June 4, 1912 (as listed on the Lux Clock Bank) was issued to Jasper E. Lewis of Philadelphia and covered coin-controlled circuit-closing apparatus, coin-in-slot for actuating apparatus for motors adapted to drive fans, etc. for a predetermined length of time.
Patent # 1,029,305 issued on June 11, 1912 to Paul Lux of Waterbury, Connecticut covered an alarm clock mechanism and was assigned to the Waterbury Clock Company when issued.
Patent # 1,564,431 issued on December 8, 1925 to Charles and Nicholas Malouf of Chicago, Illinois covered a coin-controlled clock with drawings as with the Lux Clock shown in this article.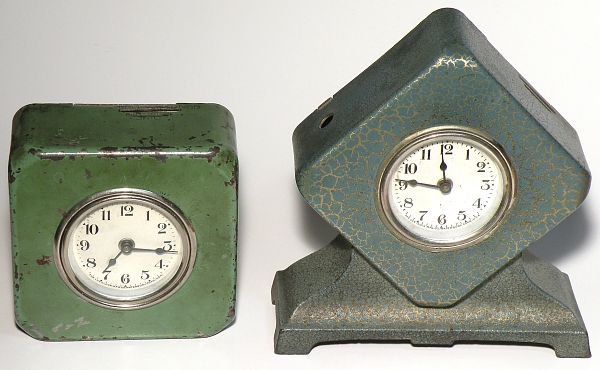 Patent number research and banks in photo above from the collection of Bill & Wendy Jones.
---