COLLECTORS' SHOWCASE, Volume 1, Number 4
March/April 1982, pages 8 and 44



NEW:
Walt Disney Productions©
MICKEY MOUSE MECHANICAL COIN BANK
By Pride Lines Ltd.
------------------------
By Keith Kaonis
In examining the new Mickey Mouse mechanical bank, my first reaction was — original, substantial (6-1/2" high including the base) and well presented. Even before you get to the bank a well made wooden shipping box greats your eye. It boasts dove-tailed corners (seldom seen in the last forty years) and two cast and painted metal plaques on each side identifying the contents.
The bank itself is well bracketed to the bottom of the box for shipping. It is easily removed from the box by removing two wing nuts. Out pops a "pie-eyed" Mickey. I was pleased to see the design presented the early rendition of the famous Mouse.
The overall construction is cast metal and stamped steel (the drum). The painted finish is applied evenly and is well done. The piece has a very durable look and feel.
Inserting a penny in Mickey's waiting right hand, I tapped his tail and he rotated sharply and deposited the coin under his hat. The action seemed a bit stiff at first, but once Mickey gets the idea of dropping the coins under his hat he greedily continues without fail. I found the trick was lightly tripping his tail – not pressing hard. The mechanism is of the "shooter" type employed for over 100 years in mechanical banks. The operator must cock Mickey's hand after each deposit. The key is clever; the handle is the likeness of Minnie Mouse. This should prevent easy loss of just another "ordinary" key.
In conclusion, in evaluating the Mickey bank based on a general comparison with the majority of "modern" collectibles on the market, I would rate it A+. It reflects quality of manufacture; both bank and comic collectors should greet this addition to their collections eagerly.
The bank embodies all the features of ageless permanence and is bound to increase in collectability over the years. We are told that the Mickey Mouse bank is the first in a series of six. Banks to follow are Minnie Mouse (now on the drawing board), a "long billed" Donald Duck, Pinocchio and Jiminy Cricket, Goofy, and Horace Horsecollar and Clarabell Cow.
The Mickey Mouse Mechanical Coin Bank is offered by Pride Lines, Ltd., 620 North Queens Avenue, Lindenhurst, New York 11757. The price is $175 plus $5 per unit for shipping, handling and insurance, VISA and MasterCard accepted, telephone orders (516) 884-8188.
---

©Walt Disney Productions


"COLLECTORS SERIES"
by PRIDE LINES LTD.

Mickey Mouse Mechanical Coin Bank
A very debonair Mickey with red pants, brass buttons and straw hat leads the other Disney favorites as the first in a limited series of six Disney character banks by Pride Lines Ltd.
He stands on a drum, ready to place a coin under his straw hat and into the drum with just a flick of his tail. When Mickey isn't busy working he can relax in his own wooden cheese box. And don't forget Minnie, she's the only one who can take the coins out!
Each bank is hand-cast from metals, 6-1/2" tall, hand-painted, with a non-toxic baked enamel finish and a nickel-plated drum. The internal mechanism is guaranteed for one full year. Price $175.00 + $5.00 shipping

"Tencennial" Streetcar, Electric Railway
To commemorate the special occasion of the tenth anniversary of Walt Disney World, Pride Lines Ltd. has produced the "Tencennial" Streetcar. Powered by an AC-DC tinplate motor, the "O" gauge streetcar is 11" long and mounted on a wooden display plaque. It is all metal construction, hand soldered, with a non-toxic baked enamel finish.
Everybody's favorite mouse displays the streetcar for all to see, standing an impressive 4-1/2" tall with a nickel-plated "Tencennial" medallion in his hand. Donald Duck, Pinocchio, Pluto, Minnie, Huey, Dewey, Louie and Goofy are along for the ride too! All figures are hand-painted and cast from high strength polyester. The entire unit is guaranteed for one year.
Don't miss the trolley! The "Tencennial" Streetcar will be produced for one year only, October 1981 through October 1982. Price $250.00 + $5.00 shipping
VISA and MasterCard Accepted


PRIDE LINES LTD.
620 North Queens Avenue, Lindenhurst, New York 11757, (516) 884-8188
"Our Product is your Pride"
---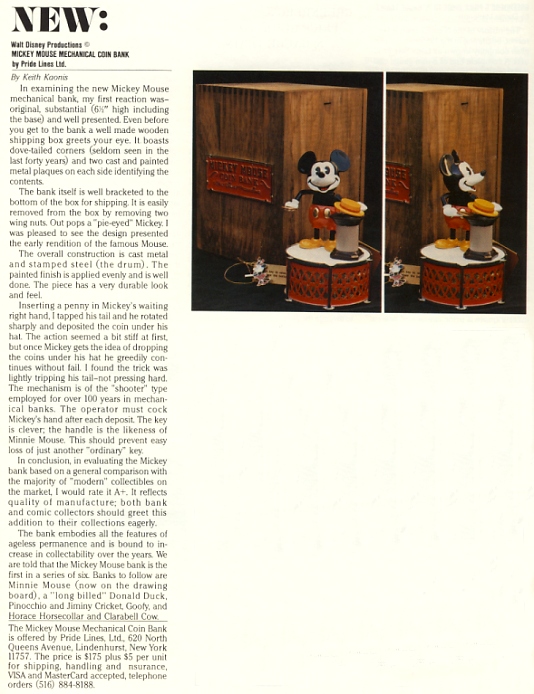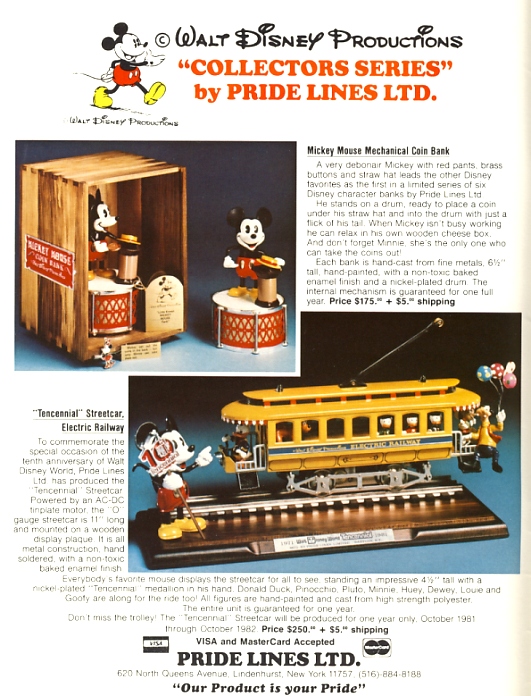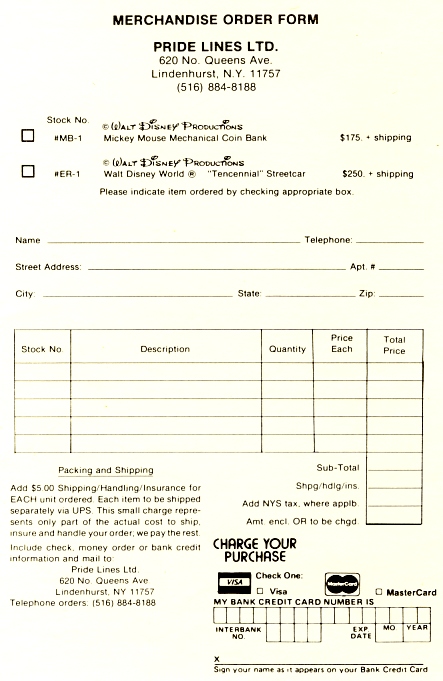 ---