Dog On Turntable & Gem Bank
by F.H. Griffith - HOBBIES Magazine - August, 1979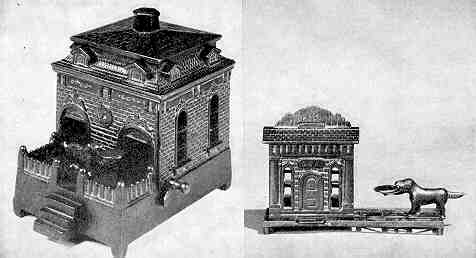 Two very nice H. L. Judd mechanical banks, which are in the animal or dog group of the mechanicals, are our choice as Nos. 279 and 280 in the numerical classification. Dog On Turntable is No. 279 and the Gem Bank is No. 280. Like all Judd mechanicals, there is nothing very spectacular about the action of either bank. However, the action, while simple, is interesting, different, and does a good dependable job in depositing the coins. Judd banks are well made, sturdy, and with very good detail in their castings. Generally speaking, they could stand more rough usage than the average mechanical bank.
H. L. Judd & Company had factories in Wallingford, Connecticut; Brooklyn, New York; and Chattanooga, Tennessee. They also had offices and showrooms on Chambers Street and Reed Street in New York City. This is based on three original catalogs in the writer's possession, Nos. 25, 29 and 30 dated 1892 through 1895. Among other still and mechanical banks, the Dog On Turntable is pictured and described in the 1895 catalog, No. 30. Judd, by the way, made a wide variety of things in cast iron, including ink stands, match safes, twine boxes, letter clips, bill stickers, paperweights, cast trays, photograph frames, drawer pulls, call bells, and numbers of other items.
The Dog On Turntable, pictured Figure 1, is in mint condition with fine all original finish. The finish as described in the Judd catalog is ebony and gold. They also furnished the bank in two other finishes, copper-bronze and maroon. This bank can be found in nice condition since all these finishes used were quite durable.
To operate the bank, a coin is placed in the tray held in the dog's mouth. The crank on the side is then turned clockwise and the dog goes through the doorway into the building, deposits the coin inside, and comes out through the other door into position ready for another coin. In the original catalog no name is shown for this bank.
The Gem Bank, Figure 2, does have a name and it is on the bank itself just over the doorway of the building. On the decorative top of the roof appears 'PAT'D'. The bank shown is in mint condition with the maroon finish.
To operate, the dog is pulled back into position as shown in the photo. A coin is placed on the tray held in the dog's mouth. On lifting his tail, the dog snaps forward depositing the coin in the building.
To remove coins from the Gem Bank, it is necessary to take the bank apart. A coin trap is provided on the underside of the Dog On Turntable.