COLLECTORS ROUNDUP - December 27, 1946
The Mechanical Banker
Part IV
By Richard M. Lederer, Jr.
Every collector dreams of finding, some day, in an out-of-the-way place, a prize item for his collection in proof condition. Mechanical Bank collectors are no exception. All banks are wanted by collectors, but there are perhaps 100 banks which are more desirable than the others. Of this group there are 10 or 20 for which a collector would metaphorically gladly give his right arm. Of course desirability varies from person to person but to me some of these prizes are:
Chinaman with Rat on Tray
Ferris Wheel
Freedman's
Harlequin
Initiating
Little Red Riding Hood
Merry-Go-Round
Mikado
Moody and Sankey
Old Woman in Shoe
Wishbone
To describe them all would take more space than we can afford, but to pass all of these by with no more mention than their names would be unfair.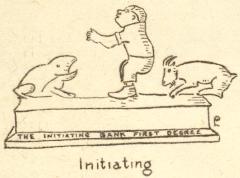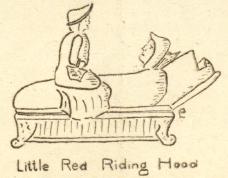 The Freedman's Bank is perhaps the outstanding prize; only 5 are known and of these only one is complete. A darkey seated at a table sweeps the coin into a hole, then thumbs his nose and nods his head. This rarity was made by Jerome Secor of Bridgeport, Conn., about 1880. Made of wood, clothed in cloth with intricate spring winding mechanism, they were easily broken and soon discarded. In addition, they were sold wholesale for $5.50 each, a factor which did not help to sell many banks. The value of this bank is untold, it is so greatly in demand. One collector however, found his in Mexico and paid only $25.00 for it.
Harlequin, Columbine and the Clown is also very desirable. The dancing motion with Columbine's graceful pirouette is most attractive. This bank, patented in 1887, did not appear on the market until 1906. Although there are more specimens than you can count on the fingers of one hand, it is still very rare.
The Initiating Bank First Degree takes its name from the words cast in the base. A goat butts a man, forcing him to deposit a coin into the mouth of a waiting frog. This old timer is not very interesting in action or appearance but is rare and in demand by collectors.
It is said that there are only two known specimens of Little Red Riding Hood and one of these is broken. The little girl is seated beside her grandmother in bed. A mask tips forward revealing the wolf and the girl tosses her head in fright. A sizeable sum is waiting for the person who discovers another copy.
Shoot the Chutes shows Buster Brown and his dog Tige in a boat or sled which knocks the coin into the back when it shoots down the chute. Patented as late as 1906 by Charles A. Bailey and manufactured by the J. E. Stevens Co. Very few can be found today.
I an sure that more specimens exist of these rare items. Hidden away in some attic, these prizes will come to light through perseverance of collectors and dealers. Think of the pleasure you would get in finding one, to say nothing of the money waiting for the lucky hunter.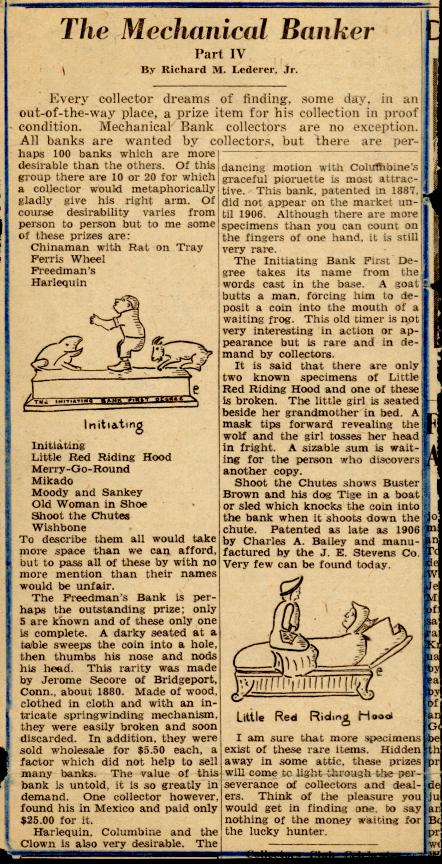 ---
Also see:
1946 Richard M. Lederer, Jr. - September Article, Part I
1946 Richard M. Lederer, Jr. - Collectors Roundup, Part III
1947 Richard M. Lederer, Jr. - March Article, Part V
1947 Richard M. Lederer, Jr. - April Article, Part VI
1950 IBM Magazine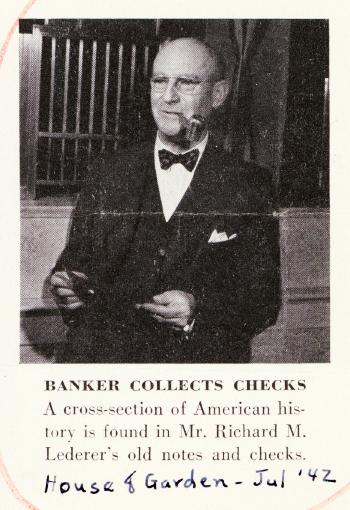 ---